Frequently asked questions
Class/Sign Up Questions
What do I expect from a one-time class?
---
One-time classes are a fun way to experience pottery for the first time or get back on the wheel after a hiatus. Bring clothes you don't mind washing, a hair tie, and your hands!
Participants will be taken through the basic steps of using the potters' wheel. You will choose the glaze finish colors to be finished and picked up at a later date.
Classes are 2 hours for working with the clay and 30 minutes for cleanup.
Here is a quick video of some of the wheel throwing steps we will be covering in class.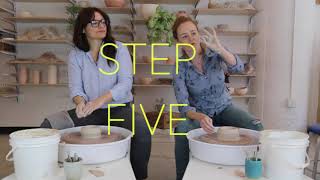 ---
How are your mixed level 4 classes set up?
---
The mixed level classes are offered for artists to work through all aspects of the pottery making process. Students will improve on their skills, bringing their inspirations to life, and have fun in the process. Participants are encouraged to come with their own inspiration of what they would like to make. This could be anything from improving your ability on the wheel, hand building your own dinnerware set, making a birthday gift, or throwing your dog a bowl! Teachers will be floating around the studio to help demonstrate and inspire as needed. Students can opt in or out of group projects as they come. The rolling class schedule will have some students who are starting their 4 classes with others who have been enrolled for some time. This lends to a nice and collaborative studio flow.
---
What if I need to skip one of my reocurring classes?
---
No problem! If you know you will need to miss one of the four pack classes you can cancel 48 hours prior to class with a full refund. You can then purchase and rebook another single class that aligns with your schedule. This can be a different class during the week if there is availability.
You can also purchase a 'Package' which will give you 4x individual classes that you can sign up for classes that align with your schedule.
We recommend to make sure you can go to at least 3 out of the 4 classes before you book them. Pots can dry out when left for too long.
---
Can I sign up for a class if I see it is full? (Waitlist)
---
Yes. Reoccurring classes typically have 6-8 seats available. If the studio flow is calm, cool, and collected they can increase to up to 10.
If you see a class you would like to join that is full, put your name on the waitlist. You should receive a response of whether you have been admitted to the class 24 hours prior to that class.
---
Cancellation Policy
---
4 Session Classes: Students are allowed to reschedule one class per four sessions for class credit. Please give 48hr notice if you are not able to attend and we can reschedule for a later date. One-time classes: Cancellations are allowed with a full refund if there is 48hrs notice given.
---
---
Clay Questions
How do you fire your pottery?
---
We fire to cone 04 bisque and cone 5 glaze in electric oxidation kilns. This 'midrange' temperature produces pieces of stoneware pottery that are food, microwave, and dishwasher safe.
---
What type of clay do you use?
---
We use two American dug midrange stonewares at Clay Lounge. One is a speckled brown the other is a white. The speckles in the brown come from small particles of manganese in the clay. The white has porcelian like qualities being soft and smooth. Both are great for both throwing and handbuilding. Outside clays (or glazes) must be okayed by an instructor.
---
Do you offer outside firings?
---
We have done outside firings in the past. We fire to cone five in an oxidation quick cooling setting. Plesae reach out with your needs and we can discuss cost and logistics.
---
---
General Questions
Where are you located?
---
We are located 75 Thayer St. Boston Ma 02118 in the SoWa Arts District in the South End of Boston. The studio is in the basement level of the 450 Harrison Ave large brick building. Park on Harrison Ave. and walk through the Thayer St. breeze way. We are across from the 'Farmers Market' chalk wall in the basement level.
---
Where should I park?
---
We suggest finding free parking on Harrison Ave or one of its ajoining side streets. The lot off of Albany street under the 93 fwy is $2.5/hr and the lot directly behind the studio is 90 minutes free (3hrs on weekends) and $10/hour after. You can see a nice visual of parking here and SoWa provides a nice visual here.
---
I have never done pottery before. Do you offer beginner classes?
---
Yes, we do! We suggest you give it a spin with a one-time class where you will be taken through the basics of handbuilding and potters wheel techniques.
If you want to dive into learning all aspects of the pottery making process we offer 4-pack classes where a floating teacher can guide you through your journey into clay.
---
What should I bring to class?
---
-Mask -Clothes you don't mind washing -A hair tie if you have long hair -Remember to take your rings off before throwing -Of course, your hands!
---
---